1929 Model A Ford Tudor Sedan

I started restoring my 1929 Model A Tudor Sedan at the tender age of 25. It took a total of five long years in a garage that my father Jack rented so the car could be completed. There were a dozen or more people involved throughout this restoration project, which is to lengthy to go into.
This car is the most special of all cars I have owned over the years. It was a childhood dream that I have shared with many family and friends! In fact, its hard to believe that I have owned the Model A since 1988!!! WOW! - where does the time go?
I had the engine rebuilt in November of 2005, so that I could enjoy touring with my family and the Twin Cities Model A Ford Club. The rebuild allows me to now burn unleaded fuel, which as you know its much easier to find then leaded regular!
The before picture dates back to October 1988 in Braham Minnesota. Click on the picture for a larger view then click back to view this page again.
Before ...

The body and frame in 1988.

Here is what a started with in 1988 - total cost $360.

Here I am at 25 at my brother Rob's home installing new running boards.

Here is the engine and frame restored.

Terry Dixon, Bruce Kortz, Ron Bye and Dad (Jack) pose with the body before it is reunited with the frame.

Here I am taking the Tudor out for its first run after marring the body back to the frame.

The 29 Tudor beside a Stearman on its first tour to Flying Cloud Airport.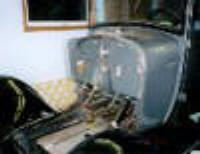 Old motor taken out for a fresh rebuild setup to burn unleaded fuel.

Parts and more parts.

Installing of the oil pump and pan with gasket.

John Roehl and John Fenske assemble a new motor in 2005.
... and after.
The year is 1993 and all systems go for the maiden voyage with the Twin Cities Model A Ford Club. The plane in the back round is known as a "Stearman" from the Planes of Fame Museum in Flying Cloud Minnesota, which is now closed sorry to say. My father, "Jack" and I drove the car a total of 150 miles that day, which believe me that's a long time in a Model A Ford.
I have been a member of the Twin Cities Model A Ford Club since 1991. To find out more about the Twin Cities Model A Ford Club - click here!